Sin Ho tourism – 'roof of mountains', Lai Chau Viet Nam
Category : Travel Places
By: Emily
Travel experience Sin Ho Lai Chau
Sin Ho is one of the most attractive tourist destinations of Lai Chau province. Any traveler who comes here will be immediately fascinated by the wild and majestic beauty of the place. And to get the most interesting and memorable trip, you need to understand Sin Ho travel experiences shared in the article below.
Synthesis of Sin Ho Lai Chau travel experience is extremely useful for those who love to move
Brief introduction about Sin Ho
Sin Ho is a border highland district located in the west of Lai Chau province, with the east bordering Lai Chau city and Tam Duong district, the west bordering Nam Nhun district and China, the south bordering Dien Bien, Son La and the North borders Phong Tho district. The total area of ​​Sin Ho district is 1530 km2 with a population of about 80 thousand people.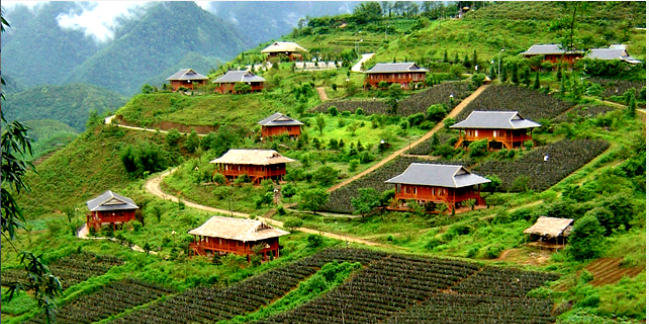 Sin Ho is a town in Lai Chau
Traveling to Sin Ho, you will be immersed in the majestic natural mountain scenery, enjoy the fresh and cool atmosphere all year round, discover the unique cultural features of the ethnic minorities here. like enjoying the famous Lai Chau specialties, with bold flavors of mountains and forests.
Sin Ho captivates visitors by the majestic and wild natural scenery
When should you visit Sin Ho in year?
Due to the relatively high average topography, Sin Ho is rarely affected by storms. The weather here is divided into two distinct seasons of the year. It is cold in winter with little rainfall and in summer it rains a lot. In general, you can come to explore this land in any season of the year. However, according to Sin Ho Lai Chau tourism experience, the most ideal time to come here is summer, from April to August every year. The climate in Sin Ho, although on the peak summer days, is always very cool, extremely ideal to avoid hot weekends.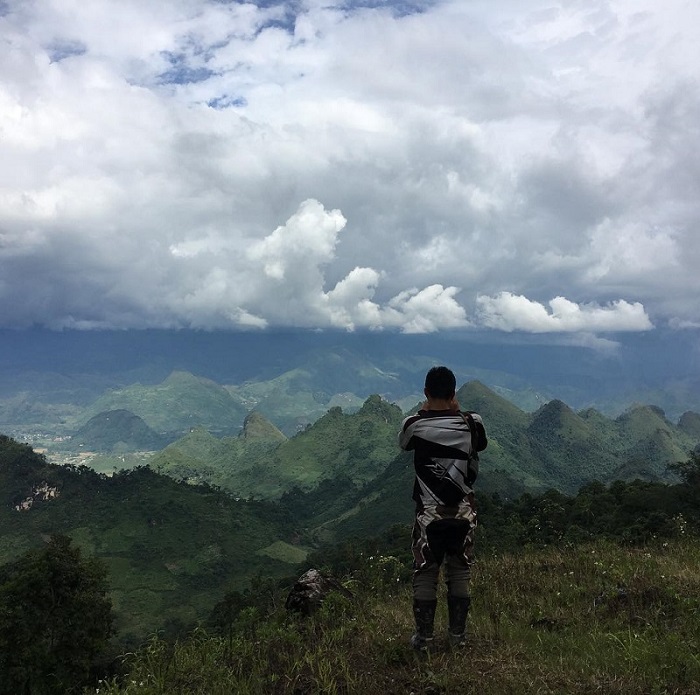 You could explore Sin Ho in any season of the year
How to get to Sin Ho Lai Chau Viet Nam?
To get to Sin Ho, you must first move to Lai Chau city. At My Dinh or Giap Bat bus stations every day, there are always many Hanoi Lai Chau bus routes for you to choose from. If  you are a fan of traveling by yourself, "Phuot" to Sin Ho is such a worth-trying experience.
"Phuot" to Sin Ho
After arriving in Lai Chau city, you can continue to move to Sin Ho in many different ways. However, according to Sin Ho tourist experience, to make the trip more enjoyable you should rent a motorbike and move by yourself. From the city center, you follow NH128 Road about 60km to Sin Ho.
Where are all the fun in Sin Ho?
Na Khuong water system
According to Sin Ho tourism experience, Na Khuong is one of the places you should not miss when coming to this land. The natural scenery here is wild and beautiful, making anyone fall in love. Passing the wooden suspension bridge lying across the Nam Mu stream, you will come to a vast rice field. The people here built dozens of water along the stream, creating an extremely impressive landscape, rare somewhere.
Na Khung water system
Na Luong village
Na Luong is a small, peaceful village with about 94 households, nearly 400 people located in the northern area of ​​Sin Ho town. All people here are ethnic Lao. Na Luong can be said to be a great destination for you to explore the traditional and long-standing cultural values ​​preserved intact in Sin Ho Lai Chau. You will definitely be infatuated with the melody of the gong sound, the sound of khèn or ecstatic with the unique swirl dances.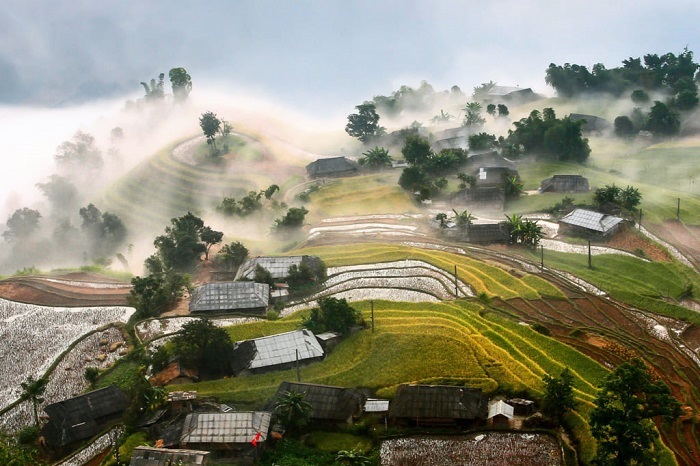 Explore Na Luong village
Hon Village
Besides Na Luong, Hon village is also one of the famous tourist destinations in Sin Ho you should not miss. It is located only about 20 kilometers from the center of Lai Chau city. Hon village is currently the residence area of ​​the Lu and Mong ethnic groups, with extremely unique culture and customs, promising to bring you interesting experiences.
Hon village
Tac Tinh waterfall
Tac Tinh is an invaluable gift that the Creator has fervently bestowed on the Sin Ho Lai Chau land. Not only possessing the wild, majestic and charming scenery, this place also hides behind a thrilling legend about the couple's journey.
Tac Tinh waterfall
Tien Son cave
Tien Son Cave is located in Tam Duong district, but very close to Sin Ho. This is a large cave system, including 49 compartments formed hundreds of millions of years ago. Step inside the cave, you will be amazed at the beautiful limestone stalactites, with all different shapes. In particular, there is a clear stream in the cave, flowing night and day, is an ideal place for you to sit to rest and relax.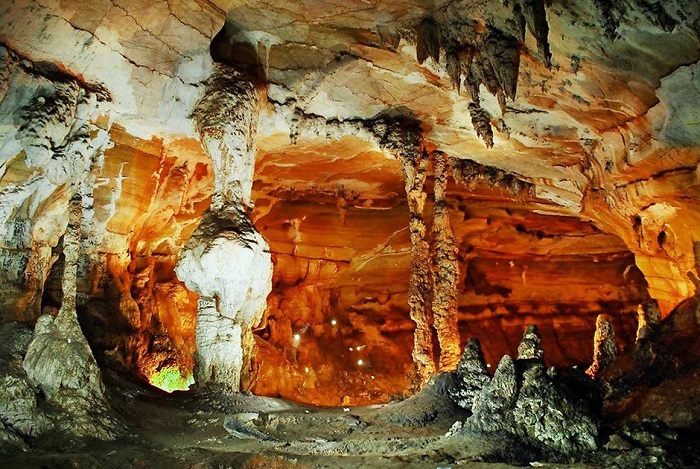 Tien Son cave
Local food in Sin Ho
Sin Ho is not only attractive by the beautiful natural scenery but also by a unique cuisine. Stolen pork armpits, purple sticky rice, black banh chung, thick cake … are the specialties of Sin Ho with bold mountain flavor, extremely delicious that you should enjoy.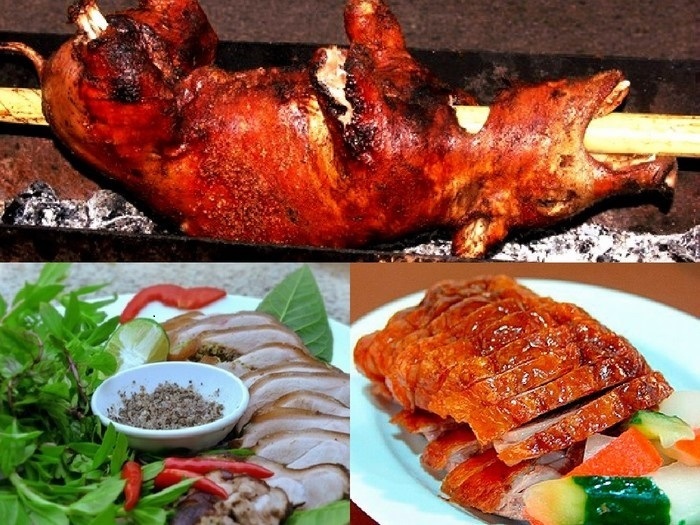 Coming to Sin Ho, you can also enjoy many attractive specialties
Tips for First Time Visitors in Vietnam:
If you've never been to Vietnam before, Emily has kindly provided some helpful tips to make your trip easier. She suggests:
Prepare your passport in advance, and make sure that your passport has at least 6 months validity, with left space for visa stamping
Check to see whether you are citizen of a country listed in the Vietnam visa exemption list or not. If you are required to have a Vietnam visa, and want to get a visa in very urgent case, you can use Urgent Vietnam visa to get it and fly to Vietnam on short notice
The currency in Vietnam is Vietnam Dong, but you can bring USD and exchange this to VND before getting onboard a plane or at one of the exchange counters at the airport, upon arrival
Make sure you book your flight tickets, a tour if you would prefer one, through the reliable agency
Related Posts :
Top hot tourist destinations in Son La – Viet Nam should not be missed
How to Travel to Dehradun From Delhi
How to travel to Jaipur from Delhi
Last Updated: July 9, 2021