Andaman Islands – Best Honeymoon Place to Visit in India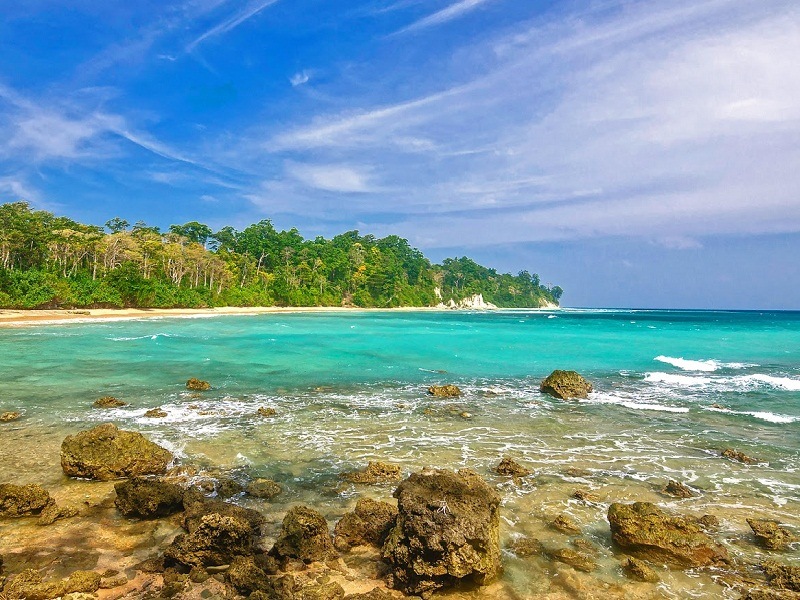 Category : Featured Article travel Travel Places Travel Stories Travel Tips
By: Debojyoti Dey Mazumdar
The Andaman Islands are home to some of the beautiful beaches. If you are a beach lover, this beach destination is a much visit. Emerald blue water, flat stretches of golden/silver-white sands, beautiful cottages & huts, and exciting water sports make Andaman an ultimate destination for honeymoon couples as well as regular holiday enthusiasts.
A beach reminds us of a relaxing holiday. So we plan for a trip to the beach destinations when we need to have an unwinding holiday either in a solo trip or on a family trip. With the wide-ranging stretches of white or golden sand, clear turquoise water, swaying palm trees, mesmerizing sunset, and a serene atmosphere, spending a holiday in the Andaman Islands is always a special experience. Apart from spending time at the beaches, one can try plenty of activities like snorkelling, scuba diving, sea walking, glass-bottom boat ride, cruise tours, etc.
Best time to Visit Andaman
Here's an idea of the usual climates of the Andaman & Nicobar Islands that you require to know and choose the best time before planning a trip to the Andaman Islands.
Summer (March-May) – Summer in the Andaman Islands is hot and humid and the temperature ranges between 24-32 degrees Celsius. Although the consistent course of the tropical wind makes it tolerable for tourists. You can also indulge in adventure sports like scuba diving, sea walking and snorkelling during the summer months.
Monsoon (June-September) – Monsoon is the longest season in the Andaman Islands. The region receives plentiful rainfall during this season, but if you are a diehard romantic, the Andaman Islands can be an ideal place for a pleasant and exotic vacation. Adventure activities remain unoperational during monsoon to evade mishaps.
Winter (November-February) – Winter is moderate and the best season to visit the Andaman Islands. The Islands is most crowded with tourists during this season. Almost all the adventure activities remain operational at this time. It is the best time to immerse into nature's beauty and explore underwater life. It is also the best time for a honeymoon couple.
So what are you pondering about? Plan a trip to the gorgeous Andaman and Nicobar islands and explore life from a different view. Get rid of your usual monotonous life and enjoy nature from close.
Last Updated: 27th June 2022