How to travel to Jaipur from Delhi
Category : travel Travel Places Travel Stories Travel Tips
By: Travel Places India
Travel to Jaipur   Jaipur is the capital and the largest city of the Indian state of Rajasthan. Jaipur is also known as the Pink City, due to the dominant color scheme of its buildings. Jaipur is a major tourist destination in India forming a part of the Golden Triangle.
How to Reach Jaipur
By Air:
Jaipur has an airport called Sanganer, 11.4 km from the city. Jaipur Airport also provides air cargo services. The airport operates regular domestic services to major Indian cities including Ahmedabad, Bengaluru, Chandigarh, Raipur, Chennai, Delhi, Guwahati, Hyderabad, Visakhapatnam, Indore, Kolkata, Lucknow, Mumbai, Pune, Surat, Udaipur, Bikaner, and Varanasi. International destinations served include Dubai, Muscat, Bangkok, Sharjah and Kuala Lumpur.
By Road:
The important highways connecting Jaipur to other important Indian cities are NH-8, NH-11 and NH-12. City buses are operated by Jaipur City Transport Services Limited (JCTSL) of RSRTC. The service operates more than 400 regular and low-floor buses. Major bus depots are located at Vaishali Nagar, Vidyadhar Nagar and Sanganer.
By Train:
Jaipur is the headquarters of North Western Zone of Indian Railways. Jaipur has a railway junction, which connects Jaipur with the metros and all the major cities of India.
Places to visit in Jaipur
Amber Fort

Amber Fort or Amber Fort is a fort located in Amber, Rajasthan, India. Amber fort is only 12.9 kms away from the Jaipur City. The town of Amber and the Amber Fort were originally built by the Meenas and later it was ruled by Raja Man Singh . the Amber Fort is also popularly known as the Amber Palace. The palace was the residence of the Rajput Maharajas and their families.
Also Watch This Video:
Jaigarh Fort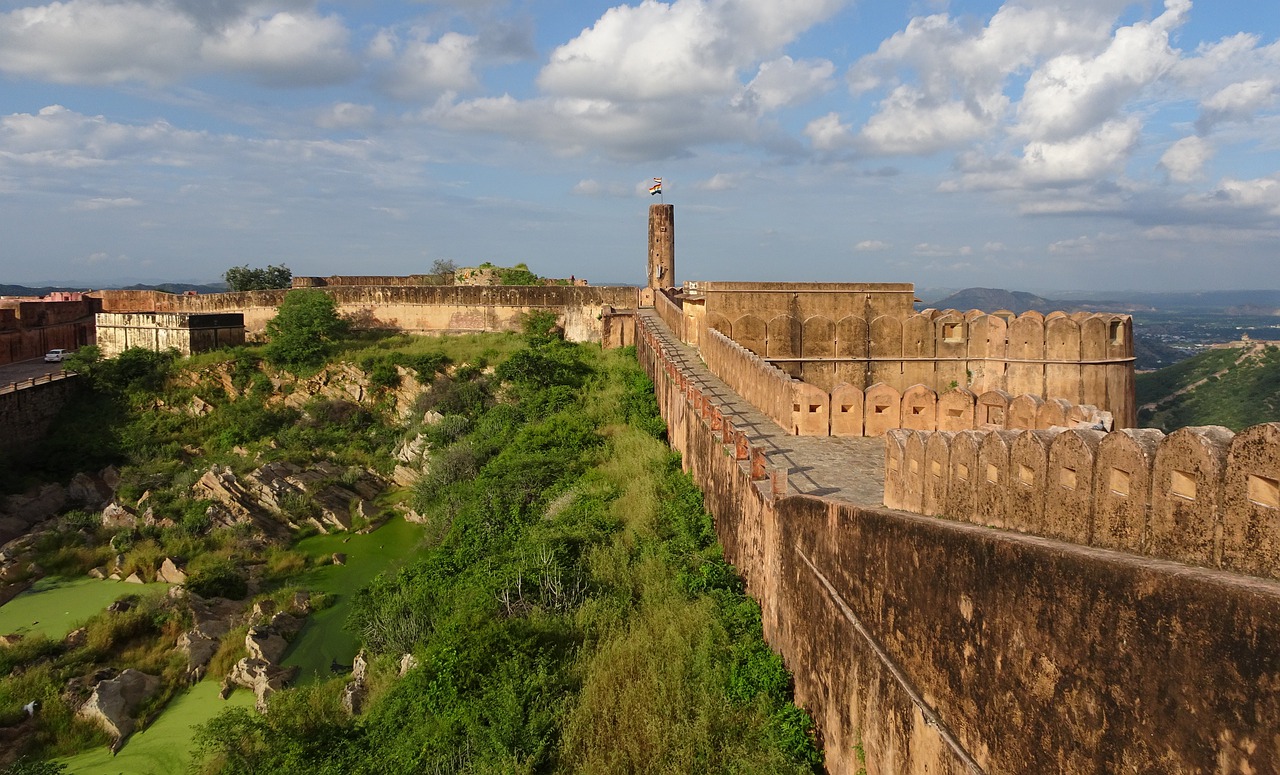 The Jaigarh Fort, located on one of the peaks of the Aravalli range of hills is built about 400 m above the Amber Fort. It provides an excellent of view of Aravalli hills and the Amber Fort down below. The Jaigarh Fort, built by Maharaja Jai Singh II in the 18th Century, is a magnificent palace located on the "Cheel ka Teela" (Hill of the Eagle) promontory of the Aravallis in Jaipur, Rajasthan. The Jaigarh fort is about 2.0 kilometers from the Amber fort.
City Palace
The City Palace is a palace complex, situated in the core of the Pink City Jaipur. The City Palace, Jaipur was established at the same time as the city of Jaipur, by Maharaja Sawai Jai Singh II. The palace and its structures have been designed, combining the architectural elements of the Mughal, Europe and the Shilpa Shastra of India. A perfect blend of colours, designs, art and culture can be seen in every nook and corner of the palace. City Palace is about 8.3 km from the Amber fort and 4.7 Km from the Jaipur city.
Also Watch This Video:
Hawa Mahal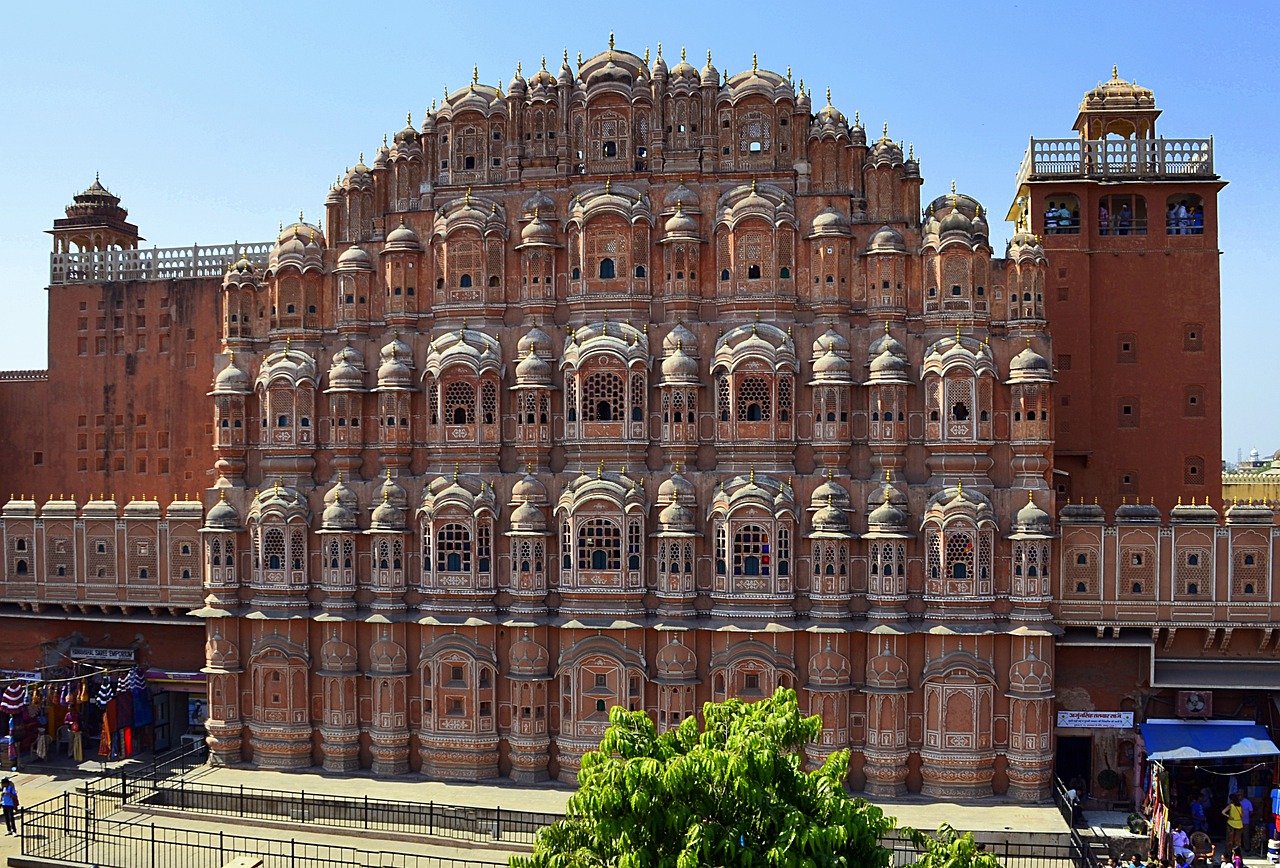 A portion of the magnificent City Palace, the Hawa Mahal is a stupendous melange of Rajasthan and Mughal schools of architecture. Etched in punk hued sandstone, it soars up to a height of about five stories and is one of the most remarkable monuments of Rajasthan. Hawa Mahal is only 5.0 kms away from the Jaipur City.
Jal Mahal

Jal Mahal is a palace in the middle of the Man Sagar Lake in Jaipur city, the capital of the state of Rajasthan, India. The palace and the lake around it were renovated and enlarged in the 18th century by Maharaja Jai Singh II of Amber. This five-storeyed building is made of red sandstone, out of which only the top floor is fully exposed and hence visible, while the others are submerged in water. Jal Mahal fort is only 3.8 kms away from the Amber fort.
Related Posts :
How to Travel to Dehradun From Delhi
Ten Cafes In Delhi That You Need To Check Out
ON A FABULOUS TRIP FROM JODHPUR TO JAISALMER
Last Updated: Feb 9, 2021