Your Guide to the Best Hill Stations in Rajasthan | Mount Abu Sightseeing
Category : Rajasthan Travel Places
By: Kamal Nayan
Located in the Sirohi district of Rajasthan, the famous hill station of the state is known as Mount Abu. It is a perfect retreat destination for people on holidays and sometimes for honeymoons as well. People from nearby places like Jodhpur, Udaipur and Jaisalmer often come here during the summer season with their family and friends to remove themselves from the scorching sun. Like any other hill station, visitors opt for the Mount Abu sightseeing tour with great enthusiasm.
Also Watch This Video:
The lush green surroundings, pleasant temperature and uncomplicated scenic views make the city a must-visit place for travellers. Mount Abu has a lot of tourist attractions, some of which are man-made masterpieces. So, if you are planning to visit the city, Mount Abu is Near Jodhpur so hire a taxi rental in Jodhpur and go to explore and make sure that the places suggested below are included in your Mount Abu tour:
Nikki Lake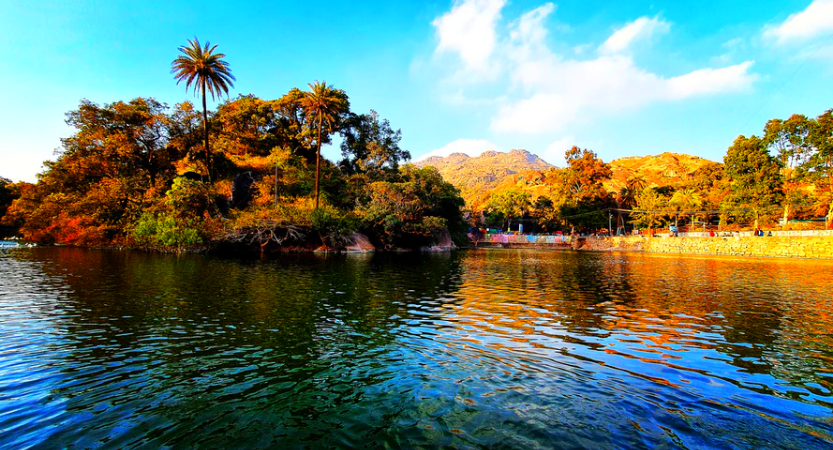 Nikki Lake is an artificial lake and the only artificial lake situated at an altitude of 1200 meters above sea level. The lake gets its name from the legends which say that the lake was created by the gods using nails and nails.
Nestled amidst the lush green Aravalli hills, the mesmerizing Nikki Lake is surrounded by rocky hills and gardens. Due to its beauty, many visitors keep Nikki Lake on their Mount Abu sightseeing list and make unforgettable memories here. Although most of the people visit the lake during summers (as it helps them beat the heat), if you want to witness the true beauty of the place, then monsoon season is the best time for you to visit here. But whatever the time of your visit, one can always enjoy boating, sitting by the lake and many other things. But do not forget that the time of boating here is between 9:30 am to 6:00 pm.
Also Read: Ranakpur Jain Temple: History, Timing, And Information
Dilwara Temple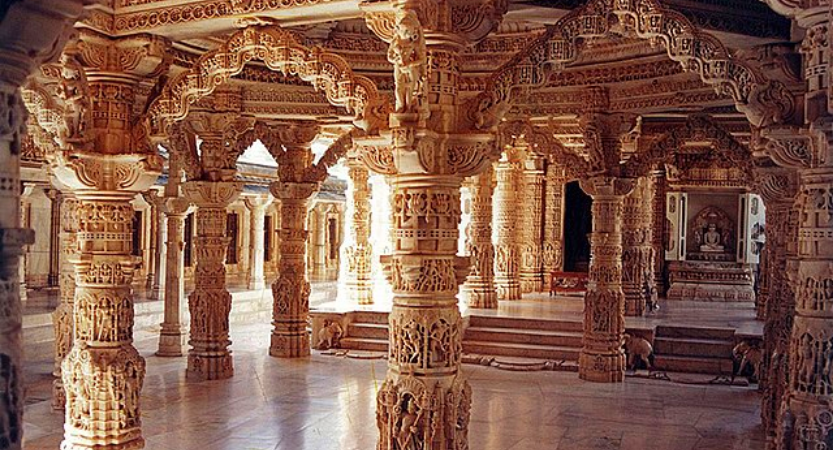 The Dilwara Temple in Mount Abu is a marvellous Jain temple built in marble carvings by Vastupala Tejpal between the 11th and 13th centuries. The design and architecture of the entire temple is a treat for the eyes. Within the temple, there are 5 more temples that have similar attractive designs and attractive interiors. Of these, Vimal Vasahi and Pithlahar are the two temples dedicated to Lord Rishabh who is the first Jain Tirthankara. Luna Vashi is dedicated to Lord Neminath who is the 22nd Jain Tirthankara. Khartar Vasahi is dedicated to Lord Parshva who is the 23rd Jain Tirthankara and Mahavir Swami Temple is dedicated to Lord Mahavira, the last Jain Tirthankara. Sightseeing in Mount Abu is bound to feel incomplete if you do not visit these temples. The luxurious interiors and exteriors will leave you spellbound. Temples are decorated in the temple and there are miniature statues in its vicinity. You can offer prayers at the beautiful Jain temple between 12 noon to 3 pm.
Peace Park
Peace Park is one of the essential parts of Mount Abu that calls for a visit. With greenery and serenity being the main component of this place, every visitor simply surrenders to the peace that this place has. Open for visitors between 8 am and 7 pm, Peace Park is a part of the spiritual abode of the Brahma Kumaris. The park is a perfect place to meditate and rejuvenate yourself. It also hosts those looking for a picnic spot. For all these reasons, make sure Shanti Park is on your Mount Abu sightseeing itinerary.
Also Read: Adventure Activities to do in Jodhpur | Plan your next adventure in Jodhpur
Shri Raghunath Ji Temple
Shri Raghunathji Temple is situated right next to Nakki Lake. This temple is a famous pilgrimage place for Hindus as they come here to worship Lord Rama and seek blessings from him. The temple is dedicated to Rama who was an incarnation of Lord Vishnu. It is also believed that Lord Rama protects all his followers from negative energies and natural calamities. People also believe that worshipping in this temple opens the way to salvation and freedom from the sufferings of one's life. These beliefs make this temple one of the most popular places for local sightseeing in Mount Abu. So try and don't miss it.
Aadhar Devi Temple
Aadhar Devi Temple is situated on top of a huge rock which offers a breathtaking view of Mount Abu from above. According to legends, before the temple was built here, the image of the goddess was hanging in the air, hence the temple was named "Aadhaar Devi". On visiting the temple, you can come across a lot of idols and sculptures which will surely make your visit worth it. Also, a lot of travellers who come for sightseeing to Mount Abu in Rajasthan make it a point to visit because of the legends about this place. During the 9 days of Navratri the temple is beautifully decorated and completely filled!
Gaumukh Temple
Another popular Hindu temple in Mount Abu is the Gaumukh Temple. The literal meaning of the name of the temple is "mouth of the cow". A person has to climb about 700 steps to reach the top of the temple. Dedicated to Saint Vashistha, the Gaumukh temple has a long and interesting history. If you ask the locals, there will be many stories going around the city, some of which are related to the construction of this temple. One of the most popular stories about this place by the local people is that Saint Vashistha performed a yagna at this place after which 4 major Rajput dynasties were formed to rule Rajasthan. It is also said that this temple was constructed by cutting a huge rock. The entrance of the temple has a cow face carved from stone, through which a natural spring flows throughout the year. A lot of devotees who come to Mount Abu for sightseeing also come here to see the architecture of the temple.
Also Read: 15 Tourist Places Near Jodhpur That You Must Visit In Rajasthan
Guru Shikhar
Situated at an altitude of 1772 meters above sea level, Guru Shikhar is the highest point from where you can see the beautiful city of Mount Abu. At the top of the hill, you will find a temple dedicated to Guru Dattatreya, who is believed to be an incarnation of Lord Shiva, Lord Hindu and Lord Brahma. Apart from this temple, some more temples like Shiva temple, Chamundi temple and Meera temple can also be seen. If you want to visit these temples or summits, you will have to trek up the hill. The starting point of the trek is about 15 km from Mount Abu city. So, if you are an adventure enthusiast, add Guru Shikhar to your Mount Abu sightseeing list.
These 7 are not all secrets so make sure they are a part of your Mount Abu sightseeing tour! Apart from these places, you can spend some time visiting Achalgarh Fort, Government Museum, Peace Museum and Hall.
How to Reach
Mount Abu is a 155 km distance from Jodhpur, So From the Jodhpur Railway station or Jodhpur Airport, you can book a taxi service in Jodhpur and go to explore Mount Abu.
Last Updated: 25th March 2022