Top Unique Things To Be must enjoyed Individually in Rajasthan
By: Kamal Nayan
Rajasthan is a state of wonders and this place offers you unlimited ways of entertainment. Rajasthan has the impression of a land of palaces, forts and dancers, but there are many other things to do in this state beyond these sightseeing places and the many faces of Rajasthan that will not only amaze you but can give you an impeccable experience. Land. The land has many wonderful sites in all its territories including small districts and even villages where you get to see many fantastic things that are not found anywhere else in the world. Rajasthan is a wonderful place to explore and discover many beautiful things that are unusual and one can find a wide land to discover these things.
It is not only because the state belonged to the royals and the culture of the state reflects those royals at every level, but the people of this state are very religious and they believe in many things and events that are traditionally related to the faith. And to this day they stand in a high position.
1. Face the hidden ghosts and their stories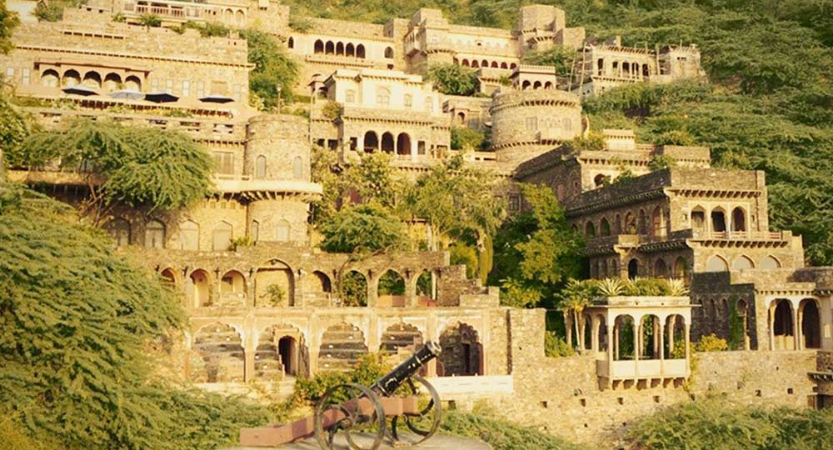 Rajasthan is a land that has the largest number of places related to ghost stories and mystical events. From the tales of the famous Bhangarh Fort to the abandoned Kuldhara village, there are many places that are famous for their haunting stories and mysterious events. And these are the reasons that make them all the more attractive and attract a large number of people to discover the truth. Every single person who visits these places never forgets to discuss their stories. So be it the story of the princess and the magician of Bhangarh Palace or the abandoned village of Kuldhara which became empty with people in a single night, and they are really scary and can scare people when they go on time.
2. Fly High With Hot Air Balloon Ride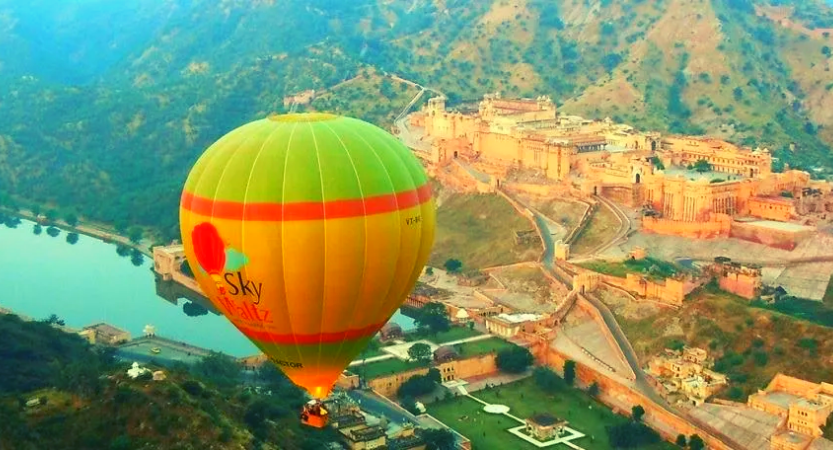 Hot air balloon rides can be one of the most adventurous activities experienced in Rajasthan, and these rides are not limited to one city but more than one city where tourists can take a hot balloon ride to witness the beauty of this state. can enjoy. Starting from the capital city of Jaipur, which is the hub of balloon rides, can be the best destination for travellers. The experiences are beyond words and those who just fly high can have a mesmerizing experience of seeing the city from the sky. After Jaipur, one can also find good options for balloon rides in Udaipur city and people can get about 45 minutes flying try on a high balloon ride to explore the lakes and palaces.
3. Dig Into the Blissful Red Maas
Lal Maas is a royal feast that you can enjoy in the state of Rajasthan. This may happen in other places of India, but the state which is the birthplace of Lal Maas should not be left out. This traditional recipe comes from the royal kitchen of the state and is made with red hot chillies in a sumptuous gravy made with local spices and can be enjoyed with naan or missi rotis.
There are some very opulent places in different cities of the state where you can enjoy this dish, and this dish is specially made with desi ghee which makes it all the richer, adding to your dining experience in Rajasthan. can make it more perfect. Lal Maas can be one of the best food for non-vegetarian lovers in Rajasthan and it is included in every rich meal or meal of the state. The menu is really what you will see after a tiring tour of any city in the city which will add more fuel to your energy and the spicy taste will wake up all your senses.
4. Spend a Night on the Golden Sands
Spending a night under the stars and on the golden sands of the Thar Desert will truly be a memorable experience for the rest of your life. You can opt for several night safari camps where you can go for camping and overnight fun. Jaisalmer is the most suitable place for Night Desert Safari; And let no one miss any opportunity to spend the night in the sand dunes. It is no less than an adventure and is definitely full of fun and entertainment. Your night stay will be filled with exotic dinners and various tourist service providers arrange folk dances and music and they can be combined with bonfires and great luxury campsites.
There are a variety of desert safari camps that you can choose from various service providers and they are available according to your budget. Your overnight stay will be accompanied by a special guide and you can also go for a camel safari on the sand before or after your overnight stay.
5. Living under the royal roof
It is known that Rajasthan is the land of royals and thus it is certain that the state is full of palaces and royal architecture, but there are many palaces that are maintained by the state government and some of them are protected by the Archaeological Survey of India. But there are many royal palaces that have been converted into heritage hotels. And these hotels will leave no stone unturned to make you feel like a king or queen with their service and hospitality.
The royal cities of Jodhpur, Udaipur, Jaipur and Jaisalmer have many hotels that offer supreme luxury and abundance. There are many royal palaces which have been converted into heritage hotels, there are also different rooms which have different rooms for the kings and queens to show their lifestyle and way of life, so you need to experience such a lavish lifestyle. Should get a chance. These heritage hotels will also serve you great food and safari options.
6. Darshan of the unusual shrine of Bullet Baba
Rajasthan is a state that is full of fantastic places and stories and the same goes with Om Baba Temple also known as "Bullet Baba Mandir" and the main deity of this temple is Bullet Bike. It sounds really interesting and strange to hear and it is located in the Pali district of Jodhpur city. You can reach this bullet baba temple by booking a Jodhpur taxi.  The temple is located on the Pali-Jodhpur highway and it is believed that if they worship the temple then they will have a safe journey.
One of the reasons behind this belief is the mortal accident of "Om Banna" named after Om Prakash Rathod, who was making a fatal journey riding on this road when his motorcycle collided with a tree. After the accident, whenever the local police tried to bring the bike to the police station, but it automatically went into the ditch where it had fallen, even after tying it with iron shackles, it went back to the accident area. Thus believing in the power of Om Banna's spirit-led people to believe that his spirit helps distressed travellers, the temple became so famous.
7. Explore Walking Tigers into Various Sanctuaries and Wildlife Homes
Rajasthan can be one of the best places to explore the flora and fauna of India as well as sand. There are many wildlife sanctuaries and national parks located in its various cities. This state can give you a good glimpse of birds, mammals and reptiles. Some of the popular places to spot tigers are the Sariska National Park in Alwar where leopards and tigers can be seen and many other wildlife sanctuaries like Ranthambore National Park being one of the most popular ones where one can spot wild cats.
The national park is located in the Sawai Madhopur district and is counted among the best places for tiger hunting. Apart from this, if you are fond of bird watching then Keoladeo Ghana Bird Sanctuary and Desert National Park are the best to explore beautiful birds like the great Indian bustard. One can also get some very good views of wild animals in Kumbhalgarh Wildlife Sanctuary.
8. Tour around the huge Kumbhalgarh Fort
It is the second-largest hill fort in Rajasthan and the speciality of this fort is that it is the birthplace of Maharana Pratap who is the epitome of Rajputana bravery and patriotism. The fort has faced many attacks during the war and the invaders but the fort never lost any battle and it stands with pride and valor. The place has seven huge gateways, and a 38 km long wall and is situated amidst the high Aravalli hills.
9. Visit Kuchaman Fort
This Kuchaman fort is not very popular among the forts of Rajasthan, but it is one of the popular places for shooting Indian movies. Since many popular Bollywood movies have been shot here and the fort has been converted into a grand heritage hotel. The interior design of this fort is really beautiful and furnishes with some of the best murals and wall paintings. The fort can be one of the best trips for you in Rajasthan. This Kuchaman fort is also related to the Hindu poet and follower of Lord Krishna and this fort is especially known for its glass interiors which is worthy of praise.
10. Must See Great Temples of Osian
The Osian temples of Rajasthan are definitely worth visiting and the temples are located in the beautiful city of Jodhpur. This temple is at a distance of 68 km from Jodhpur, You can go to this temple by booking a cab hire in Jodhpur. The temples are known not only for their ornamental architecture but for retreating in the heat of the Thar Desert and are referred to as the "Khajuraho of Rajasthan" for their beautiful architecture. Osian temples are considered to be a symbol of Jainism and the temples are considered as one of the important places for Jain pilgrimage. Osian is a famous city in Rajasthan as it is home to a collection of ruined Brahmin and Jain temples. Which is from the 8th to 11th century.
The city was an important religious centre of the people of Marwar during the Gurjara Pratihara dynasty. There are 18 temples in the group of temples dedicated to Surya Mandir and one is Kali Mandir, Sachiya Mata Mandir but the main temple is dedicated to Lord Mahavira who is the main deity who stands in grandeur.
Last Updated: 25th March 2022