Top Things to do in Dubai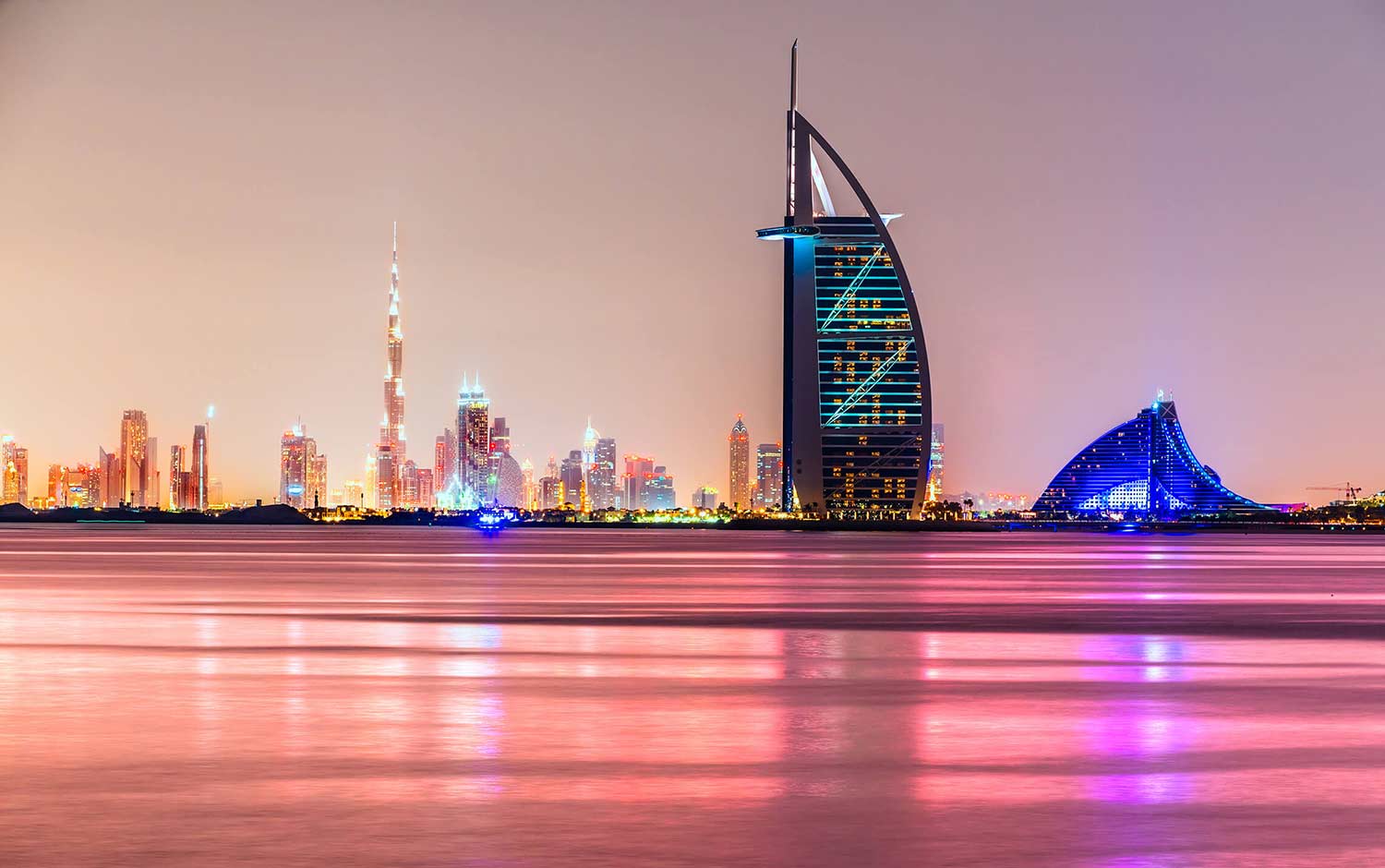 Category : travel Travel Places Travel The World
By: Kajal
Dubai is an Arabian metropolis of fantastic juxtaposition – there is glamorous city skyline and super exciting leisure attractions on one side and imposingly quaint neighborhoods on other. It, therefore, goes without saying that you'll find many awesome things to do in Dubai. If you're planning for a Dubai holiday and don't know how or where to begin, this Dubai guide would enlighten you about the city's unmissable experiences.
Visit three Dubai Attractions at once – Burj Khalifa, The Dubai Mall & Dubai Fountain Show
Downtown Dubai is one of the city's most happening spots. And a visit to this neighborhood allows you to take in Dubai's most prestigious landmarks. See the towering 828-meter-high Burj Khalifa, which is also the world's tallest building. Also consider a trip up to its observation deck on 124th or 148th level with the best lookout point to admire Dubai's unmatched cityscape, ocean and deserts.
After this, you can head straight to the biggest of its kind Dubai Mall with over 1200 outlets plus all dining, leisure and entertainment attractions imaginable. It boasts of the renowned Dubai Aquarium and Underwater Zoo, Dubai Ice Rink, and Hysteria Dubai Mall, among others. While there are many more attractions to check out here (including Souk Al Bahar), be sure not to miss the Dubai Fountain Show – an incredible spectacle of light, water and music on Burj Lake outside of the Dubai Mall.
Spend a day at Palm Jumeirah & Visit Burj Al Arab
You may have seen ubiquitous images of Dubai where it's presented as a massive palm-shaped island with a crescent on its top. Well, this is actually Palm Jumeirah! With tons of accommodation and leisure attractions (including Atlantis, The Palm Resort, Atlantis Aquaventure and Lost Chambers Aquarium) plus dining and shopping options, this impressive man-made island is one of the coolest spots to explore in Dubai. As part of your Palm Jumeirah visit, you can also visit other celebrated Dubai attractions such as Madinat Jumeirah and Burj Al Arab – the sail-shaped structure which is considered the world's only seven-star hotel.
Wander the Al Fahidi Historical Neighborhood
Get showcased to one of Dubai's oldest sections as you stroll along the narrow alleys of Al Fahidi Historical Neighborhood. Also known as Al Bastakiya Quarter, this is a quaint area where its early 19th century sandstone structures topped with wind towers and wooden courtyards are still retained to its original state. Some of these structures are now turned into museums and art galleries, of which the must-experiences are Dubai Museum (inside the region's oldest of its kind Al Fahidi Fort), Sheikh Mohammed Centre for Cultural Understanding, and Coffee Museum.
Shop for Less at Dubai's Traditional Souks
The flagship designer stores across Dubai's shopping malls may give you a feel that Dubai is for rich and famous only. But, a visit to the traditional Arabian bazaars or souks along Bur Dubai and Deira will force you to change your perception about Dubai. Visit Textile Souk, Perfume Souk, Spice Souk etc; you'll find almost everything (including rare and distinct Arabian souvenir) at exceptionally low rates. Beyond bargain shopping, Dubai's souks are a tourist attraction in its own right. So if you're not able to visit all souks, make sure that you take a tour of Gold Souk where the entire alleys and streets are filled with shops selling jewelry finished in precious metals.
Experience Dubai's Killer Theme Parks –IMG Worlds of Adventure, DPR, Ski Dubai & More
Dubai's theme parks easily earn a spot on any Dubai bucketlist for its totally distinct themes plus an awe-inspiring array of rides and attractions. One of the must-visits is IMG Worlds of Adventure which is the world's biggest indoor theme park. There are four distinctly themed zones, filled with games and attractions based on Marvel superheroes, cartoon characters and pre-historic dinosaurs.
For theme park fanatics, another unmissable spot in Dubai is Dubai Parks and Resorts (DPR). It's the region's first integrated resort and what make it more special are its three theme parks and a water park. Motiongate Dubai is the biggest of all, which excites you with its Hollywood movie inspired rides and attractions. With its colorful theme highlighting Hindi movies, Bollywood Parks Dubai is equally fabulous. Finally, there is LEGOLAND Dubai and LEGOLAND Water Park, mainly created for families of little ones from 2 to 12 years.
If you wish to add more exotic theme park experiences, you're then spoilt for choices. Step into Ski Dubai inside Mall of the Emirates, where you can catch up with real penguins and participate in uber cool winter activities against falling snow (surprisingly even when Dubai's outside temperature is at its peak). Another alternative is to visit Dubai's gaming-themed attractions such as VR Park and Hub Zero.
Desert Safari
The quintessential desert safari experience allows you to take in the raw beauty and serenity of Dubai's desert landscape like no other. At first glance, it may appear to be barren and isolated, but a desert safari  will surprise you with a flurry of fun-filled activities. Enjoy 4X4 dune bash, ride a camel and experience Bedouin culture and traditions as you smoke Shisha, take in falconry and get your hands tattooed with beautiful Arabic henna designs. Depending on your chosen desert safari, BBQ buffet dining and traditional entertainment such as Tanura and belly dance will be included.
Take a Dinner Dhow Cruise
Enjoy a bite out of Dubai's inspiring culture and heritage as you take a dinner cruise aboard a traditional Arabian vessel at the stylish Dubai Marina or the historically significant Dubai Creek. It promises you a relaxed sightseeing experience from Dubai's water where you'll get to soak in Dubai's exquisite sights over a scrumptious multi-course buffet dinner with both local and international delicacies to delight your taste buds. Live music and traditional performances are other highlights of this approximately two hours cruise.
Things to Know Before your Dubai Visit
Subject to your nationality, you'll need a Dubai visa to enter the place. So make sure that you apply and get it approved much before your travel date.
Pre-book your hotel, airline tickets etc at least three to four months before. This not only allows you to avoid all last-minute hassles, but also bag maximum savings for your Dubai holiday.
Dubai may be an uber modern city, but its culture and traditions are woven in the strong Islamic beliefs. So be respectful to its traditions and don't indulge in any acts which may cause you to pay fine or even land you in jail.
Don't drink or smoke in public and be careful when you take pictures of government buildings as well as locals, mainly Emirati women.
To get around in the city, you can purchase a NOL card which lets you access all of public transport including Dubai Metro, public buses, Dubai ferry, tram etc.
You should carry your international driving license if you're planning to drive your own.
Modest clothing is recommended and don't forget to pack essential such as sunscreen lotion, sunglasses etc.
CONCLUSION
The abovementioned is justsome of our picks of the top things to do in Dubai, ideally for first timers. From Global Village and Dubai Shopping Festival to Dubai Miracle Garden, you can incorporate more attractions and experiences to your Dubai trip, depending on your time of Dubai visit.
Related Posts:
Easiest Ways to Make Your House Look Like a Parramatta Hotel
Colombia Travel Guide
11 Best Cafe Places To Visit in Delhi
Last Updated: May 18, 2020