Planning to visit Qutab Minar? Know about the visiting time and other details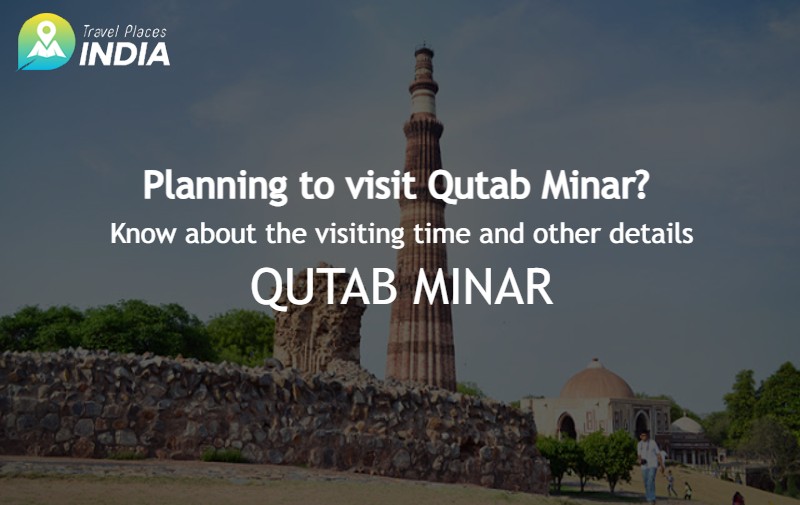 Category : Travel Tips
By: Travel Places India
One of the sites of immense historical significance in Delhi is none other than the Qutab Minar. If you are planning a trip to Delhi, then, this site should be on the top of your list. This site is covered in the list of UNESCO World Heritage Sites and the exact location is at Mehrauli, in Delhi. Not only Indian people, but a lot of foreign tourists also come to visit this place on a daily basis.
Its history and features
Qutab Minar was built in the year 1193 by Qutab Ud Din Aibak after eliminating the Hindu rule in this region. This minaret is 73 meters in height with 5 distinct storeys. The initial threestoreys are covered with red sandstone while the last two storeys are embedded with marbles and sandstones. This is one of the finest monuments that you can find in India and because of its historical significance it is the center of attraction for people around the world.
The top of the monument was developed by the British rulers, and it was open to the public, but in the last few years it has been closed down due to the massive rate of suicide. So, as a precautionary measure it was stopped.
Qutab Minar timings and entry fees
If you are looking for the important details like Qutab Minar timings and the fees charged for visiting this monument, then go through the information given below-
Why you must visit here?
is open on all the days, thus you can visit here at any day as per your wish.
You can visit this place at any time between 7 am to 5 pm.
The fees for entry is Rs 30 for Indian visitors and Rs 500 for foreigners.
Thus,Qutab Minar timings are from morning till evening and it is open on all days of the week, so you can visit here at any time when you are comfortable.
Nearest metro station
The nearest metro station to Qutab Minar is by the name of Qutab Minar metro station itself and the exact location is Mehrauli, in Delhi. This place is very well connected with all parts of the city and all the public transportation facilities are easily available. So, you will not face any problem in reaching here.
Why you must visit here?
If you wish to explore the great historical beauty of the Indian monuments, then, Qutab Minar should be on the top of your list. This monument will take you back to the ancient times and its entire architecture is a piece of mastery in itself. Especially for school going children it would be a wonderful experience to explore Qutab Minar because at some point or the other they will definitely read about this historical monument in their history books.
So, you should come along with your family and friends, and this place will take you back in time. There is an open play area where the kids can enjoy themselves and bask in the open sunshine.
But having said this there is a danger with this monument as well. Delhi is prone to frequent earthquakes and the chance of such an incident happening to this tower cannot be ruled out.