Religious And Architectural Tour Of Agra And Mathura
Category : Travel Places
By: Vikas Jain
India is a land of religious, cultural, architectural, and heart-throbbing activities, and all these things attract tourists. Nearby Delhi, there are two prominent tourist destinations which can be covered by booking golden triangle tour india. And these two cities require one day sightseeing and one is religious hub and other is a city of Taj Mahal. If you are going to visit this monument then remember the tajmahal agra timing so you can visit this lovely place easily. By visiting these two cities, one can satisfy one's quench. Mathura is a birth place of Lord Krishna, who is known as incarnation of Lord Vishnu while Agra was erstwhile capital of India during the Mughal dynasty till 1628. Why these places are so appealing for the tourists, one should read this post till the end.
Agra:- Laid The Foundation By Sikandar Lodi:-
In 1504, Sikandar Lodi laid the foundation of Agra and made his capital. Later on, Agra came into the limelight during the Mughal Dynasty, Akbar who was the third Mughal ruler made his capital as well. The city turned out to be one of the best places to visit in India to know the Mughal architecture because it is capable of holding many monuments, including Agra Fort, Akbar Tomb, Baby Taj, Ram Bagh, Mariam Tomb, and Taj Mahal, the epicenter of Indian tourism, was built in honor of his beloved, Mumtaj who died while giving the birth of 14th child. It is made out of white marble and boasts the tombs of King And Queen. It has been the most visited site in India.
Mathura: Birth Place of Lord Krishna:-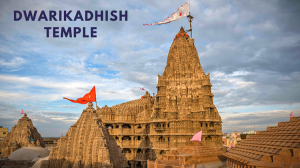 Mathura has located 190 Km from Delhi and 45 Km from Agra is considered one of the most sacred places in Hinduism. Therefore, every Hindu likes to be there once in life due to this reason, it receives a large number of religious tourists every year. Many people visit this place for a sacred circumambulation and take a bath in Radha Kund (water tank), apart from them, it holds many other prominent places where tourists visit, including Vishram Ghat, Dwarkadish Temple, Krishna Janmasthan temple complex, Govardhan Hill, Kusum Sarovar, Mansi Ganga tank, etc. the sightseeing of Mathura city can be done during one day by visitors because Mathura is not as big as you think. The good thing about this city is that in every nook and corner, travelers can feel the presence of Lord Krishna because the people of this town preserve the sanctity of the Hindu religion in a nice manner. It receives millions of tourists every year. For the followers of Hinduism, no other place can be as holy as this city.