A Visit to Sand Sculpture museum – Mysore
Category : Travel Places
By: Travel Places India
Mysore, a city of sandalwood and silk has a lot of things to offer us. When I entered the Mysore I found it to be the cleanest and most managed city so far. It has been a city of royals and is blessed by Maa chamundeshwari. You will get a royal feel as you keep coming close to the Mysore Palace, the major attraction of Mysore. But do you know Mysore is also a city for art lover though it is sand art, wax art, shell art and many more. Mysore has lots of small privately running museum, the size of the museum is only small but the kind of masterpiece they have is prepossessing. Having heard a lot about this museum I headed towards the sand art museum. Most of us are fond of sand in childhood, even now if we sit in a garden we start making things on sand especially on the seaside, but very few of us consider it as an art and make alluring things out of it. M N Gowri, a sand artist who owns sand sculpture museum in Mysore, made it possible to make some good sculpture from the tiny particles of sand.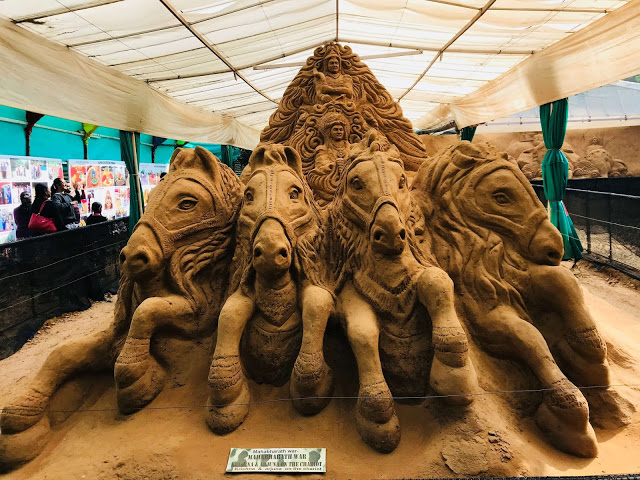 Practical information of Museum
Sand sculpture museum in Mysore is spread in 13500 square feet and it is assumed that it takes more than 100 trucks of sand to complete all the sculptures. The museum has around 150 sculptures and each shares its own story with you representing the great epic 'The Mahabharata', Dasara festival of Mysore etc.
On entrance I was welcomed by a 15 feet giant lord Ganesha sculpture, this sculpture will make you to ponder more structure in and around the area. I was amazed at detailing of the sculptures. The sculptures in the museum have covered almost all sort of themes and relate to different religion, culture, animals, festival, cartoon characters etc.
Santa at sand sculpture museum
Museum has a great statue of Late Wadiyar king of Mysore and it has other various sand sculptures like erstwhile Mysore King Srikanta Datta Narasimharaja Wadiyar who is shown seated on his throne during a Dasara festival, Goddess Chamundeshwari, Lord Krishna and Arjuna on a horse-drawn chariot,Christmas tree and Santa Claus, Laughing Buddha, Disneyland, zodiac wheel, ancient Egypt, instances from Arabian nights, Tom & Jerry cartoon, etc.
There are several shops in the museum premises and even outside of museum there is a shop that deals in Mysore silk, sandal oil, and paintings. You will also find a shop that sells famous coffee of Coorg. I will recommend shopping at the shop with Coorg spices, coffee, and most important handmade chocolates.
Timings and Entry fee of the museum
The museum is open on all days of the week. You can visit the sand and art museum from 8.30 AM to 6.30 PM. The entry fee for Sand Sculpture Museum is Rs.40 per person for adults while for kids it is 20 Rs. per person. There are no extra charges for the camera.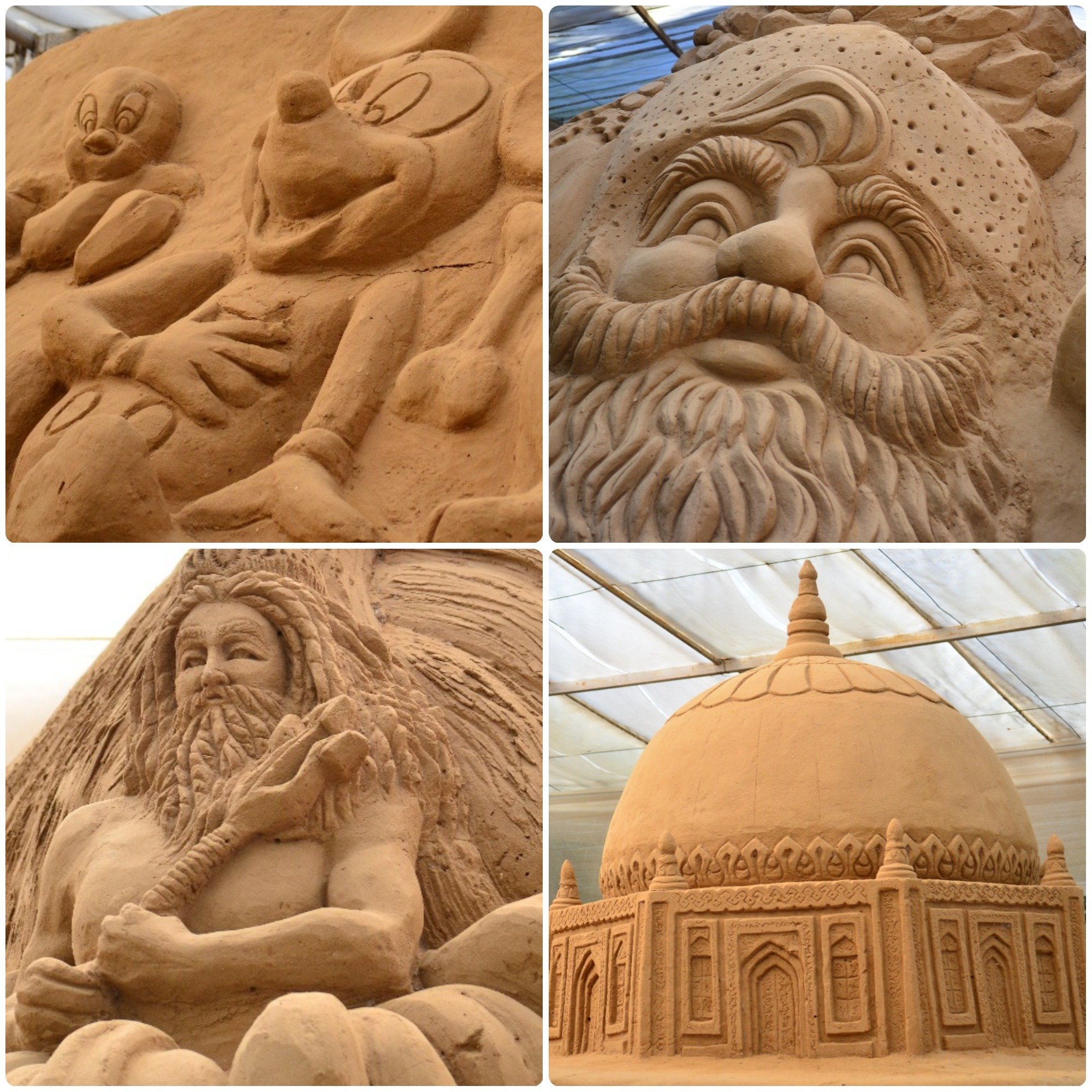 How much time would be enough for this?
The beautiful museum had 150 sculpture. 1.5 hrs would be sufficient for admiring this great creation.
How to Reach Mysore Sand Sculpture Museum?
The Sand Sculpture Museum is easily accessible via road and about 6 km away from Mysore bus stand. You can take an auto rickshaw to the museum. Museum is located at the Sapthamathruka Layout, at the foothills of Chamundi Hills.
For more pictures of museum click here :- Sand Sculpture Musuem