Experience the Delight & Depth of South India Temples!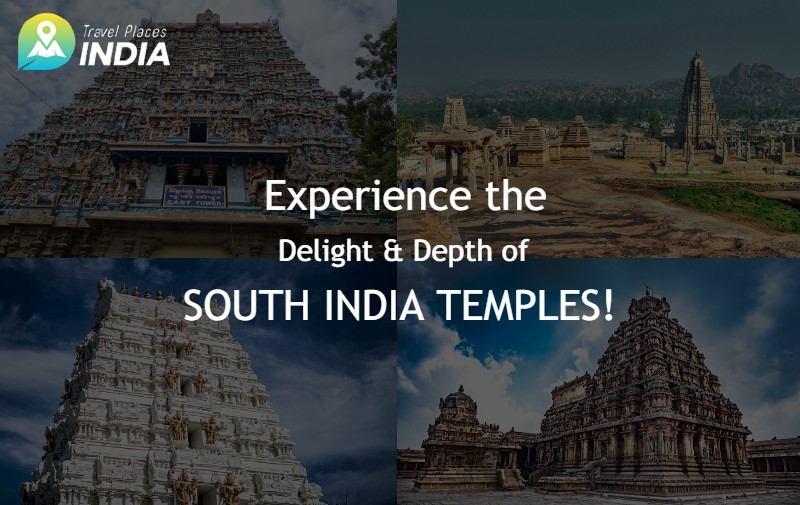 Category : South India Travel Places Travel Stories Travel Tips
By: Travel Places India
If you are one of the explorers and love to visit different spiritual destinations then you must not skip South India temples. The aura and charm of these shrines is absolutely overwhelming.  It is apparent that southern India is a wonderful abode of superb monuments, upright majestically from eras. The architecture of these South Indian monuments is amazingly gorgeous and welcoming. From Dravidian architecture to Vijayanagara chic of architecture, from intricate pillars of Chalukyas to minute stone models by Krishnadevaraya, every single monument has a different story to tell.
If you wish to visit different temples but have no idea where to start from then you can also avail South India temple tour package. Such a package is going to encompass most popular temples and you can visit them all without any headaches. Anyhow, have a peep into some of the majestic temples of southern India right below:
Meenakshi Temple
Situated on the southern banks of popular river Vaigai, Meenakshi Temple is devoted to Parvati and her ensemble, Lord Shiva. The temple is also called Meenakshi Sundareswarar Temple. This architectural marvel is a throbbing hub of culture and art.  The present day structure was constructed between 1623 and 1655 CE.  It was also on the list of topmost thirty nominees for the "New Seven Wonders of the World." The splendid halls, gopurams and the memorials of the temple are decorative and grand in their looks. Two extremely distinct features if you talk about iconography are the shrine of Meenakshi gripping a parrot and right raised leg of Nataraja. These are absolutely remarkable.
Virupaksha Temple
Located on the banks of the elegant river, Tungabhadra, Virupaksha temple is a beautiful phenomenon of Vijayanagara Empire. This temple is devoted to Lord Shiva (Virupaksha).  The temple is extremely famous for its tall gopuram, fine architecture and involved carvings. The temple was constructed in the 7th century and it underwent plenty of additions by diverse rulers that ruled the realm to showcase their power.  Here the dominant pillared hall, Ranga Mandapa, is the most decorative addition by Raja Krishnadevaraya. Virupaksha temple is a hub of marriages as well as the celebrations of Virupaksha-Pampa in the month of December. You will be amazed to know that this South Indian Temple is one of the UNESCO World Heritage Sites. The temple is certainly going to fill you with mesmeric feel, spiritual aura and so much of positivity.
Venkateswara Temple
This temple is snuggled in the hill town of Tirumala in Andhra Pradesh.  The temple is one of the popular and regal South Indian temples.  The temple is devoted to Lord Vishnu and is also called Tirupati Balaji temple.  The building of this temple is considered to have started in 300 AD. It might interest you that this Tirupati Balaji temple is one of the richest shrines of the world. It is in terms of the donations that are received by devotees.  The temple enjoys rich history and grand Dravidian style of architecture.
The shrine is visited by around fifty thousand to one hundred thousand pilgrims daily that means thirty to forty million people yearly on average.  Talking about the special occasions and festivals, such as annual Brahmotsavam, the number of visitors shoots up to five hundred thousand making the temple the most-visited sacred place in the world. The charisma and charm of this temple is absolutely overwhelming.
Airavateswara Temple
Snuggled in the town of Darasuram near Kumbakonam, this temple is another spellbinding example constructed in the Dravidian architecture. It is a UNESCO World Heritage site and this temple was constructed in 12th century CE.
The temple is dedicated to Lord Shiva and it is drives its name from Airavata, the white elephant of Indra who worshipped Lord Shiva right in this shrine.  The temple is extremely popular and admired for its exquisite stone carvings. You will definitely be charmed and enthralled by its designs and patterns.
Ramanathaswamy Temple
Ramanathaswamy Temple is situated on Rameswaram Island in Tamil Nadu.  It is devoted to Lord Shiva. The temple is also one of the twelve holy Jyotirlinga temples of India. The legend recounts the tale of Lord Rama who is considered to have prayed to Lord Shiva at this spot. The temple possesses one of the longest and most decorative corridors among other South Indian shrines. Rameswaram is also one amongst the char dhams for the pilgrimage.
The temple is one of the two hundred seventy four Paadal Petra Sthalams wherein three of the most respected Nayanars, Appar, Sundarar and Tirugnana Sambandar have adored the temple with their songs. This temple was expanded during the time of 12th century by Pandya Dynasty. You must visit this temple at least once. You are surely going to accumulate positive and spiritual vibes from this place.
Vitthala Temple
If you love creativity and art then you are going to find this temple as an icing on the cake. Indeed, this amazing masterpiece is a living example of Hampi's various monuments in terms of their architectural glory. Vitthala Temple is devoted to Lord Vishnu and it stands apart in displaying its arresting architecture and magnificence.
The temple is much admired and is popular for its musical pillars as well. It is believed that the pillars produce musical notes when played in a specific manner. Another fascination of this temple is the colossal and giant stone-chariot. The temple is really a treat for eyes.
The Brihadeshwara Temple
This temple is a grand example of Tamil architecture under the Chola Dynasty. This Brihadeshwara temple is dotted in the city of Thanjavur.  It is considered to be one of the most famous and esteemed South Indian temples. The temple is a part of "Great Living Chola Temples". The grand and royal temple is also a UNESCO World Heritage Site.  Devoted to Lord Shiva, this beautiful and majestic Indian temple has turned 1005 years in the year 2015.
So, these were a few of the most majestic and esteemed south India temples. You must grab a tour and go for these spiritual delights. You are definitely going to return with utmost holiness and satisfaction.